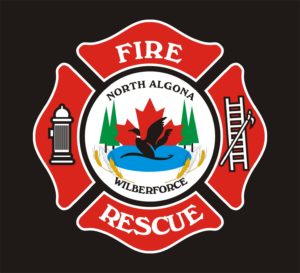 The North Algona Wilberforce Fire Department responded to a structure fire on Tramore Rd at approximately 1:10 this morning with 23 firefighters and eight apparatus.
The lone occupant woke to the sound of the smoke alarm.  The fire was discovered outside the bedroom. Because of the early warning of the smoke alarm and after an unsuccessful attempt to fight the fire with a portable extinguisher, they were able to escape and call 9-1-1.
Fire crews noted flames shooting 20' into the air when they arrived.  Application of water through the window knocked the bulk of the fire down and allowed firefighters to enter the structure and extinguish the remaining fire.  Crews remained on scene until approximately 4:30 a.m, looking for hot spots.
The early warning provided by a working smoke alarm is very likely to have saved a life today.  Please take the time to test your smoke and carbon monoxide alarms today!
Fire Chief Kevin Champ