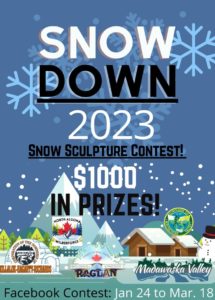 Snow Down 2023
SNOW DOWN is back again for another year!
Snow Down 2023
is a snow sculpture/art contest where anything goes, as long as its made of snow!
IF IT'S MADE OF SNOW,IT'S A GO!
With 10 prizes of $100 to be won ($1000 total prizes) what are you waiting for! Get out there and create!
CONTEST OPEN UNTIL MARCH 18
STEP 1. Create – create something out of snow or ice
STEP 2: Take A Picture – take a picture or video of your creation
STEP 3: Submit – send us a picture and description of your creation
After the deadline, all submissions will be posted on Facebook and voting via Likes on photos will occur for one week. The top 5 entries with the most votes will each win $100 and then your local municipal representatives will also choose 5 additional winners for Staff Choice and each of those winners will also win $100 each.
In total we will be giving away $1000 in prizes!
Prizes will be $100 gift cards from a local business of the winners choice!
You do not need to be a resident of the sponsoring municipalities to enter.
ANYONE CAN ENTER! AND MULTIPLE ENTRIES ARE WELCOME!
Entries must be submitted to your closest municipal representative listed below.
Chris – Killaloe, Hagarty and Richards
communitydevelopment@khrtownship.ca
Dana – Bonnechere Valley
danab@eganville.com
Cameron – North Algoma Wilberforce
coordinator@nalgonawil.com
Hannah – Madawaska Valley
recreation@madawaskavalley.ca
Justin – Brudenell, Lyndock and Raglan
officeadmin@blrtownship.ca